Hey everyone. I've been curious about this as I'm currently planning on mounting the batteries in the 300zx on their sides. Everything I've seen and read about these batteries is that it shouldn't matter which orientation they're mounted in as they're simply pouch cells inside the plastic enclosures anyway.
I did find
this page
about battery orientation for Thundersky cells.
They claim that the batteries should not be installed in the "flat" position and this is the image they used to explain why: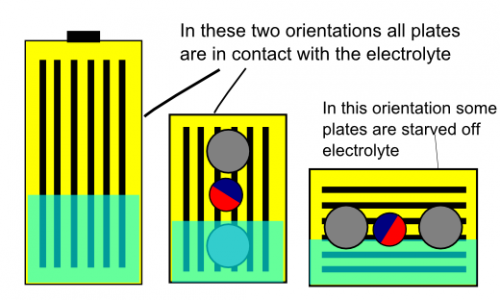 I assume that these cells (Thundersky/Winston/CALB/Sky/HiPower) all have the same internal construction. As I understand it there is no free electrolyte in the cells and the pouches don't care which orientation they're mounted in. These pouches are the same basic construction as batteries used in mobile phones and the like anyway.
My current plan is to mount the majority of my batteries on their narrow edge (like the middle image), but they'd be on a slope. Half the cells would be mounted with the terminals on the downward side of the slope, so rotated a bit towards being upside down, but still mostly horizontal.
Does anybody see any problem with mounting them this way? I have the CALB CA60FI grey cells.