This topic has developed into a "everything about Infinis" topic. The Voltronic Power Infini series is known by many other names, including the
MPI Hybrid Series
from MPP Solar.
I may put an index here if it grows large enough.
The good folks at the
South African Power Forum
tell us that
Voltronic Power
, the manufacturers of the PIP-4048 (which is also branded as Axpert 5KVA and several others), have announced a
new series of hybrid inverters, the InfiniSolar V series
, with the same MPPT front end as the PIP-4048. There are existing models that take a high voltage string, and there is a 5 kW model in that range released a few months ago, but it seems to be expensive and there have been reports of fan errors.
There are several models in the V series; the nominal 48 V models come in 3 kW, 4 kW, and 5 kW models. (The PIP-4048 is specified as 5 kVA, 4 kW, so the highest power V series model has 25% more real power than the highest power PIP-4048.)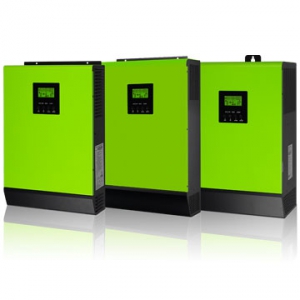 In the
user's manual
, I see many of the same settings as with the PIP-4048, but with additional settings for grid tie output. As far as I can tell, there is only one inverter in these machines, so if the grid fails, it seems to me that the loads would have to be interrupted for a fraction of a second while the grid relay drops out, the inverter recovers from attempting to drive the whole grid (it would presumably see a massive overload for a short time), reconfigures itself for stand-alone operation, and starts powering the loads again.
The main benefit of this type of inverter would appear to be using the grid to take any excess solar power; better 6c per kWh (or whatever you can get) than nothing at all. You could also support a large load (e.g. ducted air conditioner, electric oven) than what your inverter can handle, with whatever solar power you have at the time. For example: a 3 kW air conditioner plus 3 kW oven, total 6 kW and difficult to start, and you happen to have 4 kW of solar available. 4 kW of that load can come from the PV via the grid-tied inverter, and you are only charged for 2 kW. Depending on the time of day and your tariff details, your battery's SOC, and your preferences, it might even be worth supplying some of that 2 kW from batteries. With a PIP-4048, such heavy loads would probably connected directly to the grid, so you'd be paying 100% of those loads, even if the battery was full and plenty of solar power was available.
Whether such situations would come up often enough to justify such a machine remains to be seen, and I have not yet seen a price for the InfiniSolar V series.
[ Edit May 2019: Fixed changed Voltronic Power links and images. ]