[ Moderator's note: please direct feedback about charger operation to the
RAC Electric Highway(TM) Feedback
topic. ]
After years of stalling, a group of dedicated enthusiasts, visionaries if you may, have helped draft the plan for Australia's first Electric Highway! The RAC are drafting contracts with local governments right now, and we can expect works to begin early next year
Credit is due to Prof. Thomas Braunl and the UWA-led EV trial, as this project establish a network of level two AC charge stations throughout metro Perth. But the push for a DC fast charger out of town fell on deaf ears. Now that more DC-FC capable cars are on the roads, and the sales trends are positive, the time was ripe for another push.
The re-invigorated proposal was initiated by Perth AEVA member, Patti McBain. She has family down south and she simply wanted to be able to drive there in her converted Ford Focus. With the help of some friends, she arranged the first meeting at the Fremantle City Council, where sustainability officer Melanie Bainbridge's energy and connections got things moving. The Perth AEVA headed up drafting a Vision document, which after several expansions, became the main thrust of the proposal - a well mapped out, fully costed network of DC fast charging stations between Fremantle and the South West and beyond.
The Electric Highway committee lobbied anyone who would listen, and eventually after about a year, the Royal Automobile Club of WA decided to support the proposal by constructing the first route to Augusta and Bridgetown. Every local government on the route is ecstatic about the idea, and can't wait to serve the EV tourists on their way down south.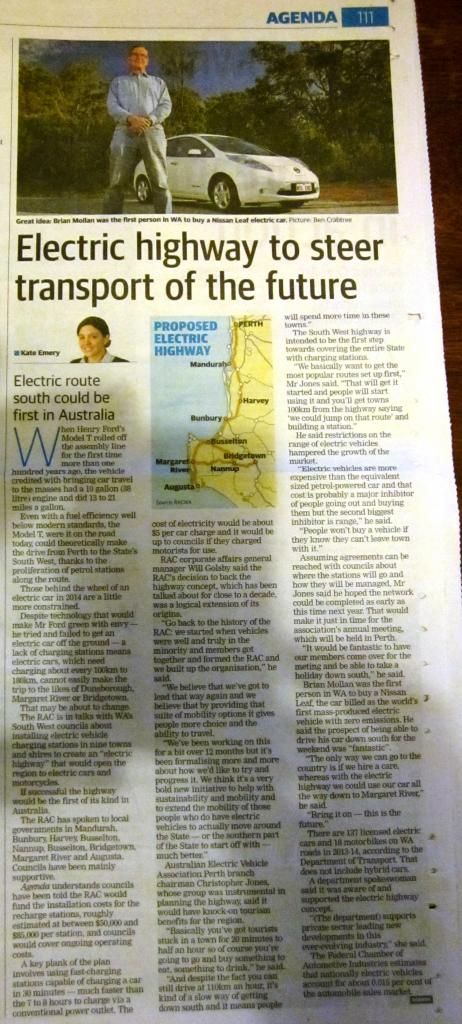 There's still lots to be done, but once this one is up and running, the movement will be unstoppable!