Hi All,
I've been working on a new idea and have read these forums before so thought i'd join the forum and introduce my project and try to find anyone else who has worked on a similar project.
I don't know what the forum feelings around hybrids are - Some time ago, I wanted to build an electric car, but practical issues got in the way, and through a few twists and turns ended up making an electric bicycle, but then went with a hybrid model.
As such, it's an electric bicycle with a petrol generator to charge up the batteries off-grid.
The project was a bit of a challenge, as there's nothing off-the-shelf that's light enough to work with a bicycle, so I designed my own generator system that will charge the batteries, making it a range-extended-electric-vehicle.
The generator has enough power to output a kilowatt, but weighs about 5kg all up, so is small enough to fit on a bicycle carrier rack. Mostly, output is under 400W as the motor system is only 200W and it's compliant with Australian laws on PAPCs.
Range on petrol only is about 150mpg and is around 180 mpg on hybrid mode - so it can run as long as it has petrol, can be charged off-grid and also manually charged. The generator is a "clip on" type, so can be removed.
In many ways, I like electric power, but it's not always an option for me - Sometimes I live off-grid and it's all generator, and so there's no chance to charge batteries during non-operational time. Having the capability to not only self-charge, but to self-charge while running was critical.
The controller senses the battery condition and will adjust the generator throttle to provide the correct amount of power, running straight into the batteries. It will detect the onset of load from the motor and increase power to provide both charge for the batteries and enough additional power for the electric motor and can be started and shut down as required.
I'm currently on the fourth generator model and on the first one to function continuously within the appropriate power bracket, so that it can be ridden normally ( by normally, I mean without breaking, burning out, making too much noise or causing other issue ) - and was designed to have a range that would allow a 60km round-trip commute to work and back from home - I've run it continuously for well over an hour, and it doesn't seem to have any operational issues at this point, so I'm slowly redesigning it to integrate all the external circuits into a single housing.
All parts are COTS - except for the controller which is custom and it's pretty efficient in terms of power use, but then it is a very small gen.
Anyway, some pics -
Testing the original hub motor - downrated from 500w to 125w... ( There's a long story there ).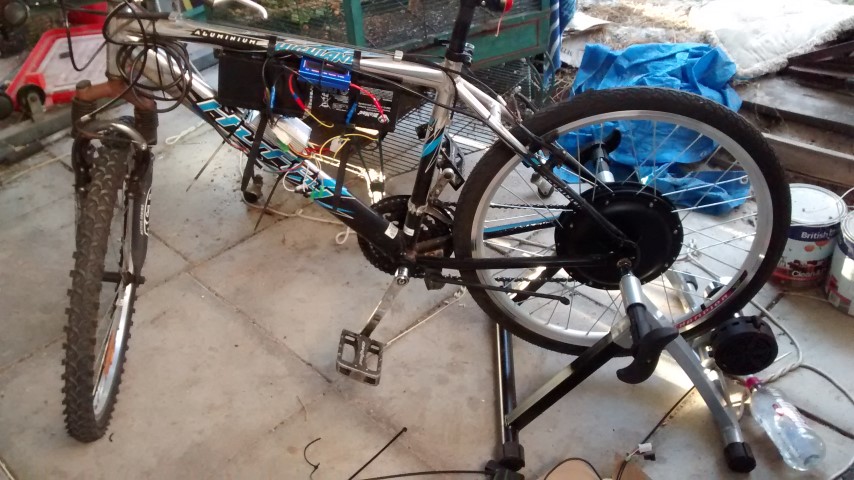 The second generation of generator - 300w maximum output, 200 continuous - Benchtesting with the control circuitry and batteries - ( Failed in operation due to overload at about 300w )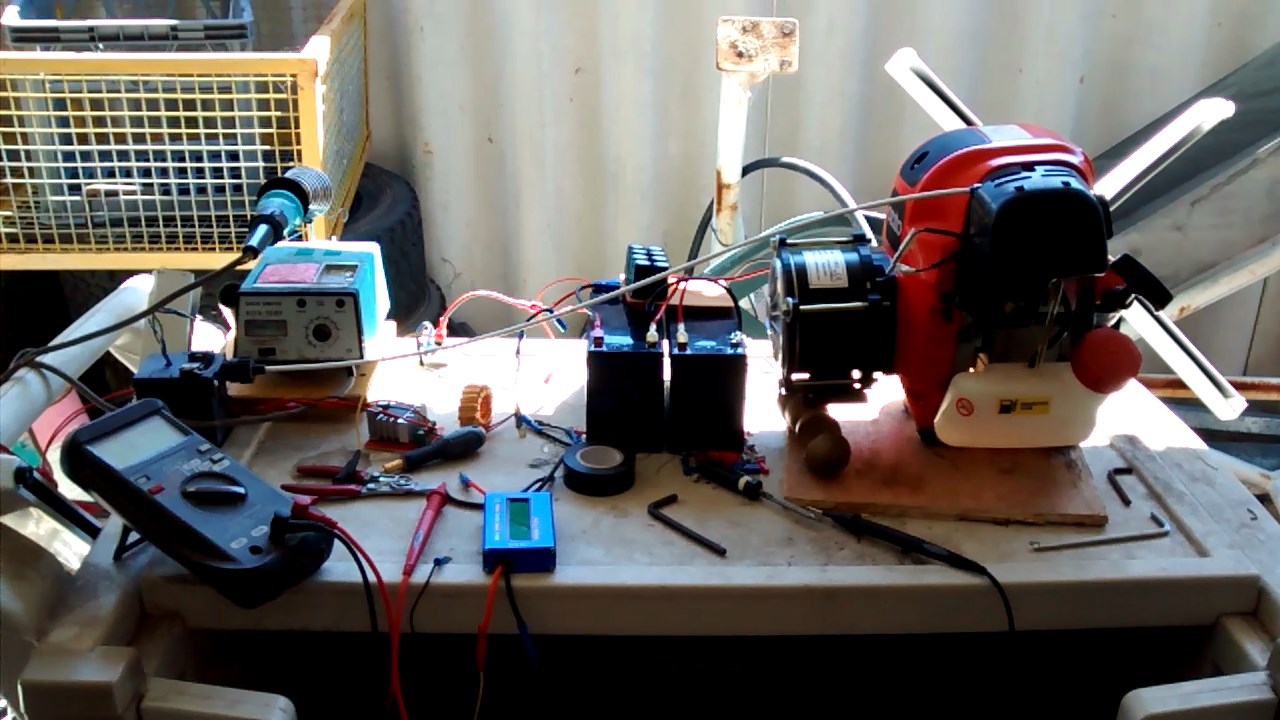 Standard VRLA batteries ( 24v @ 7.2 AH )- Fixed with 3D printed brackets, held with nylon straps - A very solid way of housing them. There is no movement of the battery assembly at all. The controller and batteries all just fit.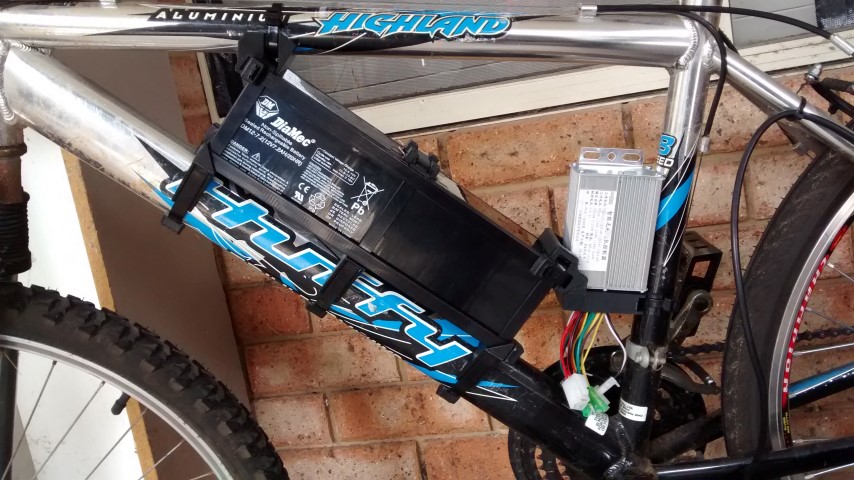 The first fully functional prototype ( Second Gen Generator ) .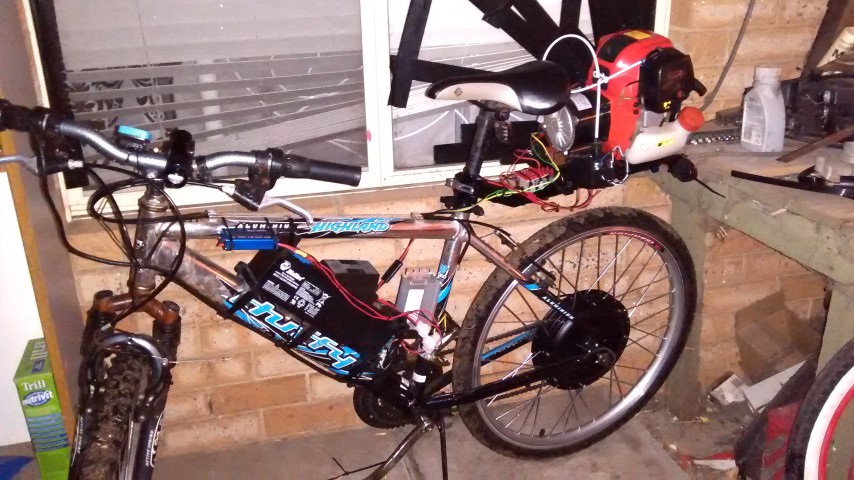 3D file planning for the battery housing structure -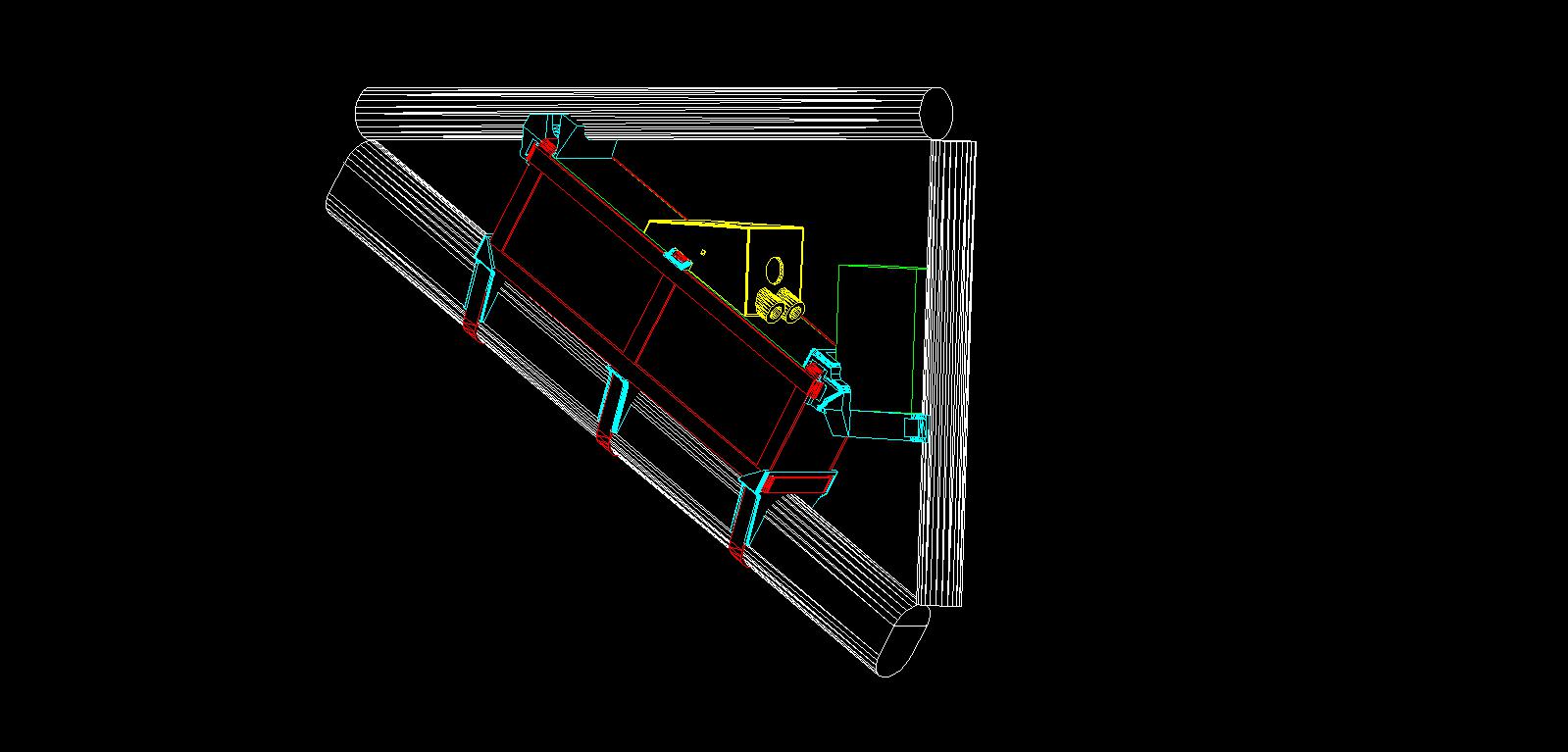 First test of the Boost circuit ( runs bike up to full 200W at as fast as 30 kph, offsetting the effects of back-emf from the motor )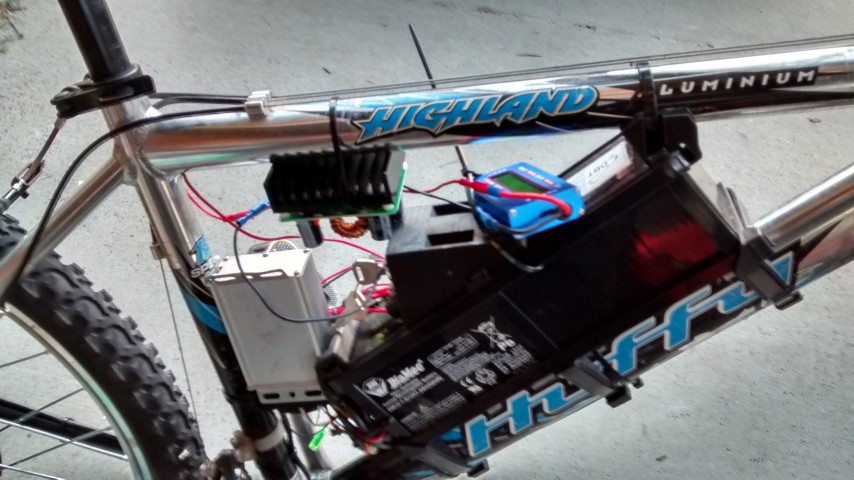 The fully complete electric bicycle circuitry, now integrating the boost controller with a switch to engage/disengage so that boost can be turned on or off ( Max speed normally - 19 kph - With boost - 25 kph. )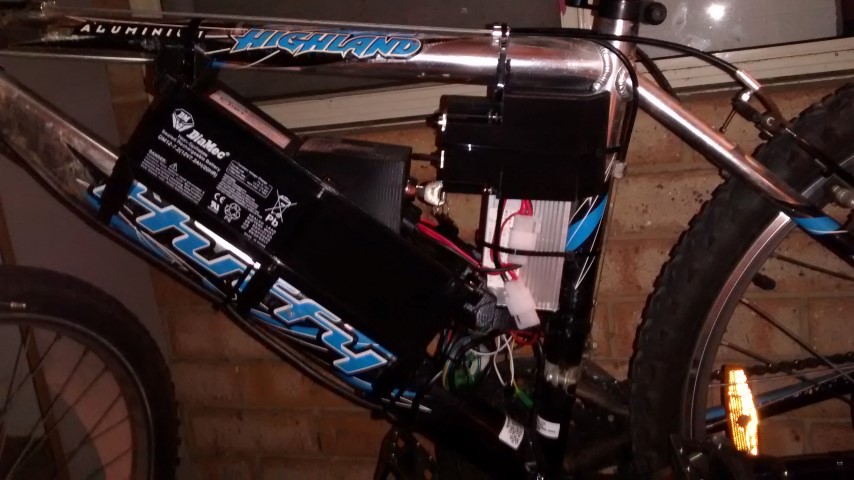 Third Generation generator ( Failed structurally ).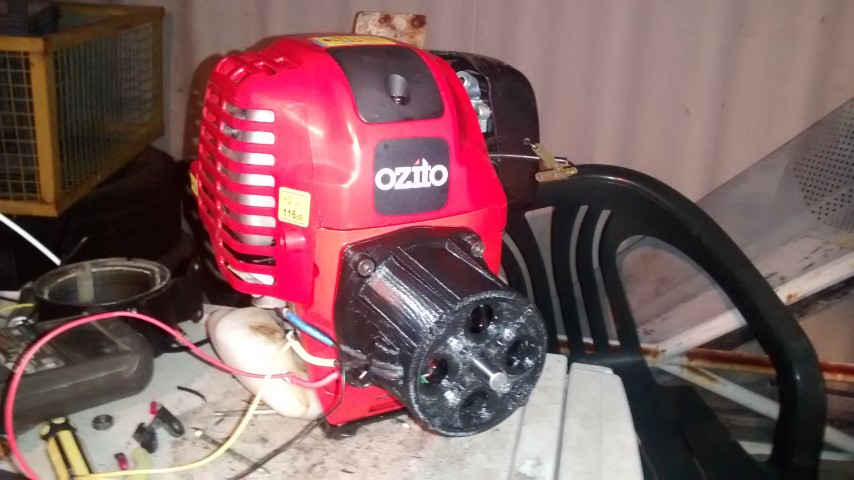 Fourth Generation generator ( First to pass all tests - max output 1000W )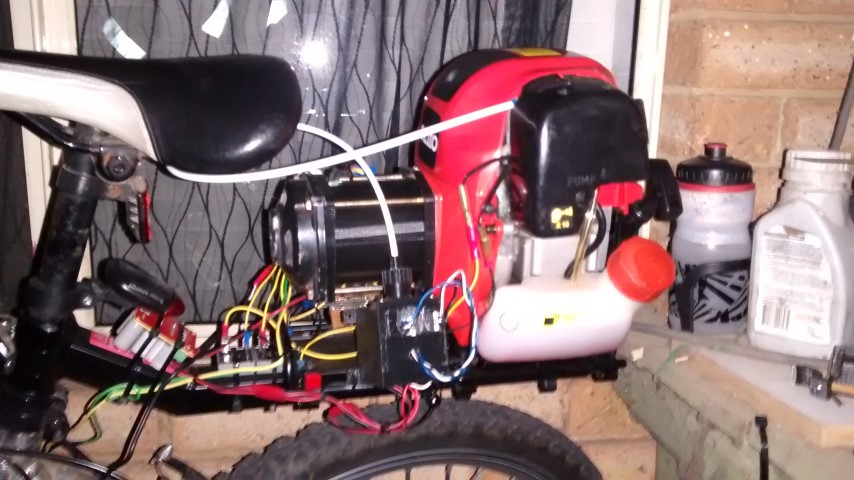 3D printed generator components - exploded view.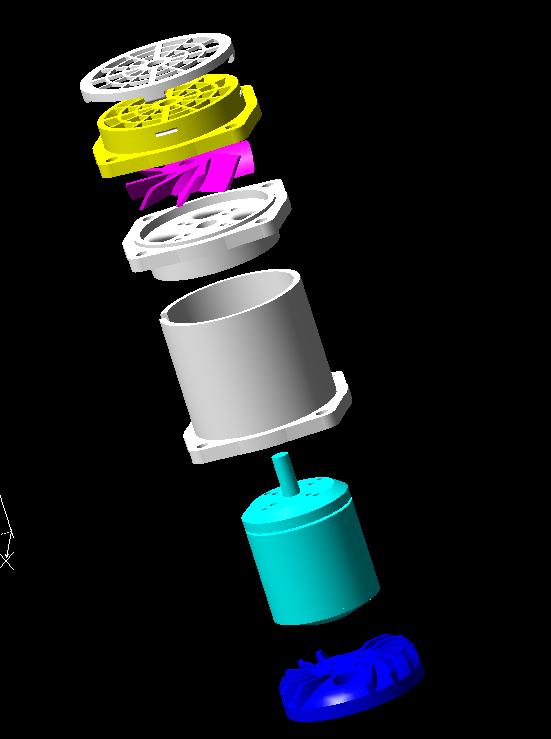 Current prototype generator for range extension.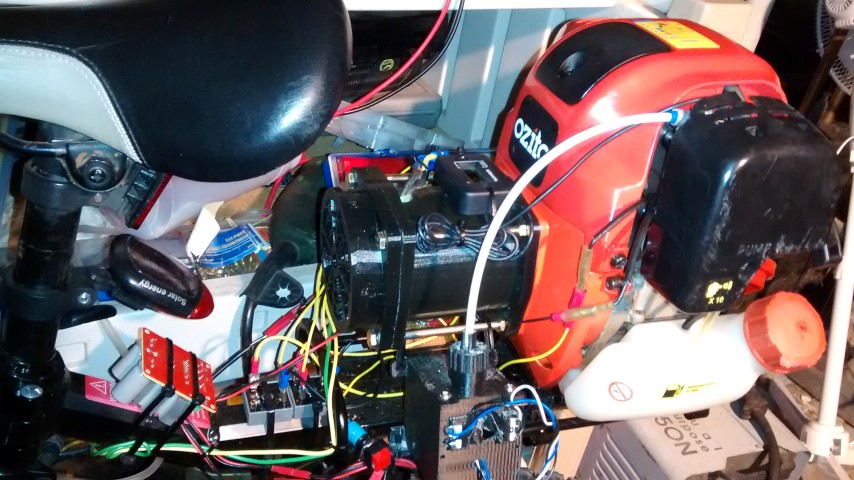 Block diagram of operation -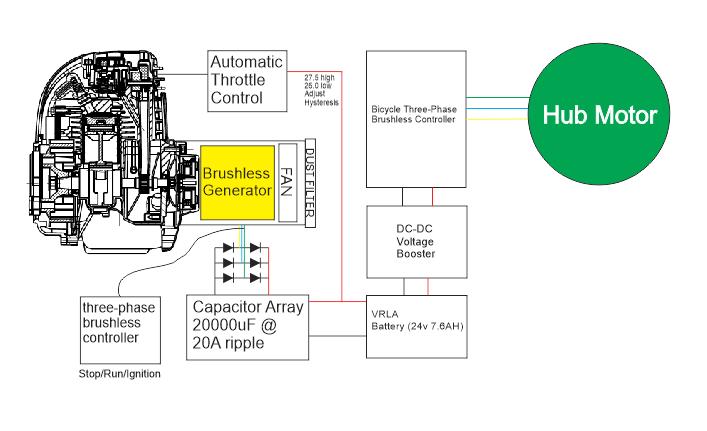 Anyway, I hope this is of interest to the forum - I guess 1000W is a bit small for most EV applications, but is enough to charge the batteries on many EVs or provide range extension otherwise, well, at least to reduce the rate at which the batteries flatten.
Overall, it was a fun project - I'm still working on updates to the design, and the next step is a new ( and different ) clip-on rack so that the system can take heavier knocks while riding.
Regards
David