So here is our starting point: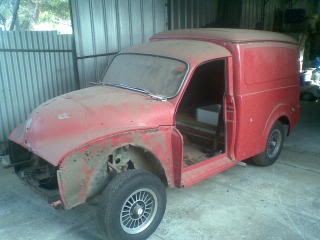 For some time I've been thinking about EVing this 1955 Morris Minor 1000, and after finishing this project recently: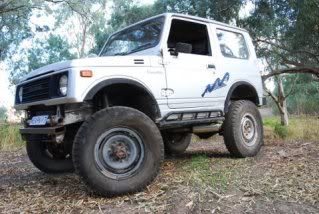 I think we're ready to start. Between my father and me, we hope to have this thing on the road in the next couple of years...but no doubt we'll need some help.
The morris was originally restored by my Dad in the 80s. It was last driven on the road in 1991, and has sat in his shed for the last 18 years... I tranported it to my place in Adelaide over easter.
Between us we have enough practical experience to get the bodywork sorted. Suspension, brakes and driveline won't be a problem based on what we have done before. I'm happy enough designing and making motor mounts and battery boxes (I'm a mechanical Engineer), but we're both very much in the dark when it comes to the electrical side of things.
Some basic performance goals might put things in perspective (although these may very well change!):
1) 50-80km range initially
2) 110km/hr max
3) 0-100km/hr time quick enough to impress...8-10 seconds would be good
How we go about achieving this is why I have arrived here!
I've got about $15,000-$20,000 for the build, but to be honest I haven't started looking into the details of what is required. We do have all the doors and other panels etc, they're ready for painting so they're not on the car right now. Original mass was around 960kg for the van I believe, but taking out the tiny 1L engine doesn't save us much.
I would love to go for an AC setup with regen etc, but I'm not sure that's possible with my cash (and lack of knowledge on the subject). Whichever path we choose, the batteries will be bought and installed last - they're going to be laid out in the back of the van, and as it's only a 2-seater we've got plenty of flexibility to do this at the end. We would like to ditch the gearbox and go direct drive though.
Our first steps are mainly concerned with upgrading the standard morris drivetrain with something that can handle some more torque and be a little more servicable in the future:
First we're looking at replacing the old leaf-spring rear end with something a little more solid. Possibly springs from a 70s/80s toyota or datsun ute. I'm looking into the use of airbags at the back to help tune the suspension with the extra permanent weight of the batteries.
Front suspension is currently a torsion-bar setup, but it's a relatively simple process to upgrade this to use telescopic shock absorbers. Similarly, brakes can be upgraded from the tiny drums to 2 or 4 wheel disks without too much trouble.
So that's it for now. If anyone has any comments on whether my goals are achievable and what kind of hardware we're looking at I'd appreciate some input. So far in my career I've kept as far away as possible from "all that electrical stuff", but I'm wishing i paid a bit more attention in those classes now...
Once we have the wheels, brakes and drive components sorted out I'm sure I'll be back in here asking the hard questions about motors, controllers, suppliers etc.