Monkeyboy, Perhaps reading something like this might help with the basics.
http://rikravado.hubpages.com/hub/Watt- ... -and-Volts
Most homes typical have around 63A - 100A breaker on the man switchboard so 15kw - 24kw max can be taken from your feed. It's then broken up into individual circuits for lighting, power outlets, fixed appliances like hot water, oven and so on. Typically most homes just have 10A outlets. The shape of the sockets input insures only corded appliances that consume 10A or under can be inserted into the outlet. The wiring circuit (often with several 10A outlets on the one circuit back to the switchboard is only rated for 10A.
A 15A outlet has a larger earth pin hole to enable you to plug in 15A corded devices that will not fit into the 10A outlets. The 15A outlet has it's own dedicated feed cable from the switchboard and appropriately sized circuit breaker.
So if you don't have a 15A outlet in your house then it doesn't take much to sort one out. Typically just a 15A outlet $15 (clipsal) (perhaps $10 for a surface mount if needed) the wire back to your switchboard about $1 meter (x how many meters to the switchboard) A circuit beaker $5 or so for (clipsal). Perhaps $20 or so for conduit if needed.
So well under $100 in parts and then how ever much your electrician wants to charge you in hr rate (always get them to quota there hr rate and hold them to it)
The Imiev comes with a 15A plug so you can only plug it into a 15A outlet. Because it only consumes under 10A I guess you could replace the plug with a 10A one and use it in a standard 10A outlet. Though how this effects the funny rules on warranty who knows.
My view is while it dose only consume just under 10A because it doing it for several hrs continuously at the upper end of what a 10A outlet is rated at it cant be a bad thing that it has a 15A plug to give it its own dedicated feed from the switchboard (overkill yes but not a bad thing).
If your getting a 15A outlet in your garage pay a little more and go for the industrial style surface mount with the screw in ring to lock the plug in. You might not need the IP rating but they are much more solid and the screw ring locks the plug in and you can hang the brick off the flap taking the tension off the cable.
This is what one of mine looks like below.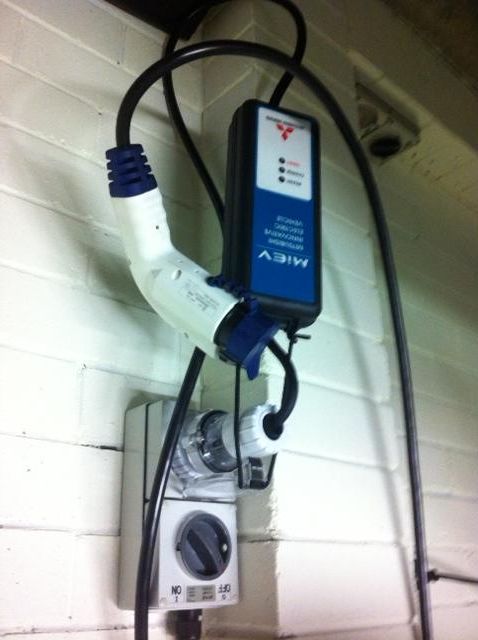 Kurt