Bike is now sold!
A few years back I converted my Honda NSR150 motorbike to electric. I hardly ever ride it and its license renewal is coming up, so I think it's time to either sell or decommission it. It's probably worth more sold as parts, but I'd rather see it go complete to someone who might enjoy it, so thought I'd see if anyone is interested. Asking $2900 complete - approx half the cost of the EV parts, with the motorbike itself thrown in for free.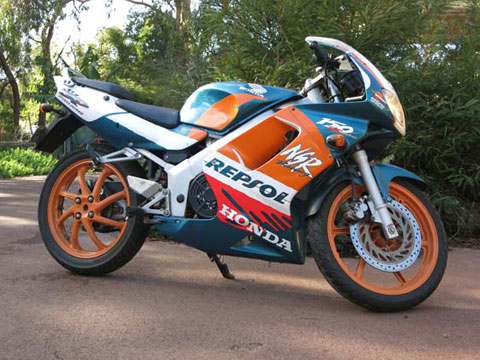 Full specs and build information here (note that the battery pack and BMS have both been upgraded since):
http://www.zeva.com.au/Projects/NSR/
Motor: Motenergy ME1003
Controller: ZEVA MC600C
Battery: 30S8P of Samsung 30Q cells (110V 24Ah, 2.6kWh)
Vehicle management: ZEVA EVMS + BMS modules, current sensor, monitor
DC/DC converter: Chennic 300W
Charger: 1.5kW TC charger, with CAN bus integration to EVMS / BMS.
Gets between 50-70km range depending on how and where you ride.
The good:
It's very reliable, fun to ride, and accelerates more like a 250cc. It's extremely cheap to run (about 1 cent per km and near zero maintenance).
The less good:
The drive train is noisier than one would expect for an electric bike, probably due to the motor being hard-mounted to the frame. (OTOH, it's arguably safer if your motorbike isn't too quiet.) And I wouldn't call it freeway capable; 100km/h works the little battery too hard, and you wouldn't get much range. But 80km/h is fine.
Note also that it has not been re-registered as an electric bike, still on the original petrol license, so it would be up to the new owner if they want to pursue this.
Get in touch if you're interested, or have any questions. Test rides welcome.