I'm still mystified by what the CAN bus connector is going to be. From
this image (315kB)
from
this great blog site
, is this:
My first guess is that the CAN connector will be the same 7-pin round connector that is documented. In fact, one document says "Connect CAN bus through plugging in CAN module (Model TC-619B), then use 2, 3, 6,
7-pin." The white collar on both connectors lends support to this idea.
However, that disagrees with this circuit: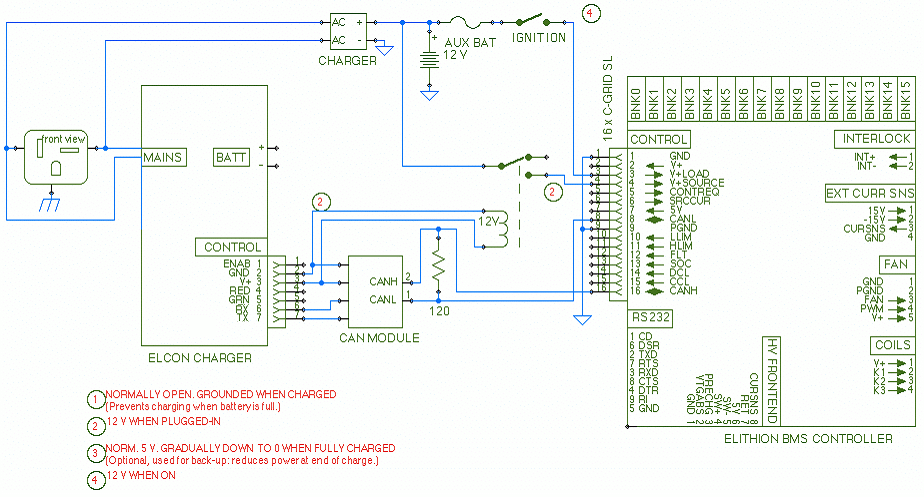 From
http://lithiumate.elithion.com/php/elco ... th_CAN_bus
I'm assuming that "CAN module" is the little box that plugs into ElCon chargers when you buy the CAN bus option. 1 and 3 are different pins to what I would expect for the two CAN signals (I'd expect 6 and 7), and they had to tap into the original cable, so it seems that if it's a 7-pin round, it doesn't have all the other wires extended.
Others have suggested that it looks like a BNC connector, but using the IEC power connector as a comparison, it's too large. Besides, you need at least 3 wires for CAN (CAN-hi, CAN-lo, and CAN-gnd), which isn't possible with BNC.
Elconcharger, perhaps you have more information on that CAN connector?
Edit: I forgot to mention that Weber has ordered a 312 V nominal (417 V max) 5.5 A (2000+ W) charger with CAN option for the
MX-5
. So I guess we'll know in a few weeks.